The Chodrcane level 75 titan
Realms
: Plague Mists Coast 59, Feidal Swamps North 65,  Altar Forest West 48, Inferno Mountains Warren 75
Drops
:  Chodrcane Core. A "quest" item needed for the invention of two epic gear items: Chodrcane Helm (level 75) and Chodrcane Flail (level 1000).
Recipes are found in Drake Haunted Peak shop in Mountain Path.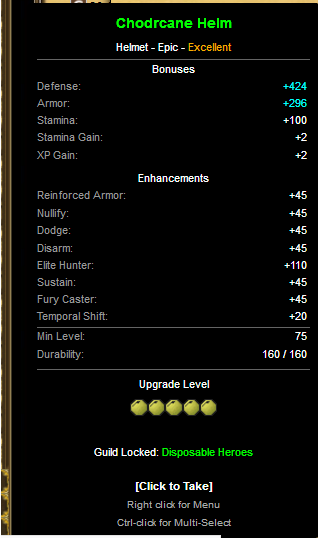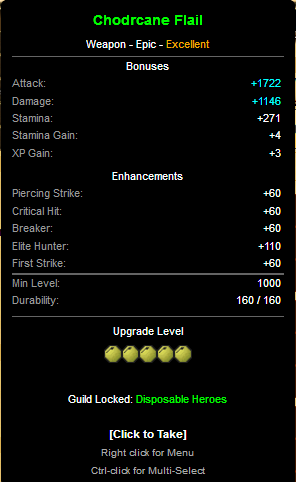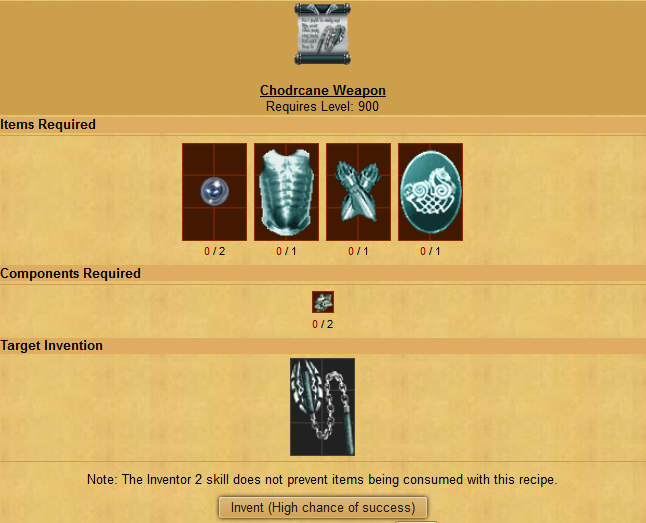 Save
Save

stimpysam

Admin




Posts

: 1632


Reputation

: 10


Join date

: 2015-11-10


Location

: UK



The Glob level 2600 titan:

Realms: 2581 Xaintor Village (Death Fields), 2591 Xaintor Jungle (Prey), 2600 Xaintor Jungle (Quarry), 2607 Ganaroth Canyon (Poisonous Paths), 2615 Ganaroth Desert (Shamble)
Drops shield stam gain +7, xp gain +6
The Glob also has First Strike and Soulless enhancements.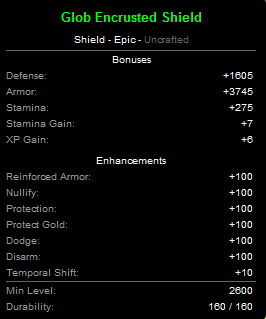 2576 portal Xaintor Jungle > 2580 Xaintor Village Huts > 2581 Xaintor Village (Death Fields)
2576 portal Xaintor Jungle > 2591 Xaintor Jungle (Prey)
2601 portal Ganaroth Desert> 2601 Xaintor Jungle Vipesh Haunt > 2600 Xaintor Jungle (Quarry)
2601 portal Ganaroth Desert> 2608 Ganaroth Desert Basking Sands > 2607 Ganaroth Canyon (Poisonous Paths)
2601 portal Ganaroth Desert> 2615 Ganaroth Desert (Shamble)
Last edited by stimpysam on Wed Nov 16, 2016 2:29 pm; edited 6 times in total (Reason for editing : addition)

stimpysam

Admin




Posts

: 1632


Reputation

: 10


Join date

: 2015-11-10


Location

: UK



Gargantuan Clamper Wurm level 450 titan:
Portal to Dark Mist Forest (Level 451 master realm) ) -> Dark Mist Forest (Edge) -> Caves of Kreth (Level 10) -> The Virtue Desert
Drops ring stam gain +2, xp gain +2

Tyrannicus Nox level 1400 titan:
Portal to The Red Plateau (Level 1391 master realm) -> Valgoth Mount (Ascent) -> Valgoth Mount (Summit) -> The Han Valley
Drops amulet stam gain +5, xp gain +4

Statue of Gurgriss' Wrath level 700 titan:
Mountain Path (13,4)->Oidhche Shamhna->Battleground of Gurgiss
Drops armor stam gain +3, xp gain +6

To hit the Gurgriss you need to equip the Spook Smasher Slime Spewer (can be bought at Cathedral of Ways Spook Central II shop)


Tommy Aches level 300 titan:
Mountain Path (13,4)->Oidhche Shamhna->Haunt of Tommy Aches
Drops gloves stam gain +2, xp gain +2

To hit Tommy you need to equip the Spook Smasher Caster (can be bought at Cathedral of Ways Spook Central II shop)


Fawkes Wickerman level 180 titan:
Portal to Brale Cove (Level 175 master realm)->Naral (South)->Naral (East)->Naral (West)
Portal to Brale Cove (Level 175 master realm)->Brale North->Brale South->Brale East
Drops armor stam gain +2, xp gain +2

stimpysam

Admin




Posts

: 1632


Reputation

: 10


Join date

: 2015-11-10


Location

: UK




---
Permissions in this forum:
You
cannot
reply to topics in this forum